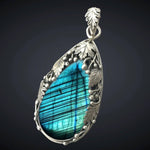 PENDANTS
All our Pendants are all made from Sterling Silver 925. Every piece is hand-crafted to order, they are totally bespoke. We simply cannot carry every piece in stock, so please give us a little time and understand that it is being made just for you.
Traditionally, we give them an oxidized finish, which gives them an antique feeling, but you can also order them 'High Polished' or with 18 kt Gold plate accents (aka Gold Filled/Vermeille). We put the gold on pretty thick (4 - 5 microns) but it will wear off eventually especially if it gets lots of rubbing. Gold accents will add on approx $20/pc to the price. It is also possible to request a gemstone accent if you are willing to give us a little extra time (maybe in the sucker of a Tentacle, the Eye of the Snake, etc). We like black diamonds for this, but you could also have rubies, champagne diamonds, sapphires, etc for an average cost of $30/pc. We usually carry a large selection of gemstones, so you can request any pendant with any stone. Don't be shy to contact us for any individual quirks or custom orders.
Please note that all our gemstones are natural so they will vary slightly in colour and shape. This is part of their uniqueness and individuality. We will give you the very best that we can, but do not expect the one in the photo. There are descriptions and pictures of various gemstones given under the 'Stones' option in the Header on the home page.
GET YOUR MERCURIOUS ON !
NOT FOR EVERYONE, AND THAT'S JUST HOW WE LIKE IT !