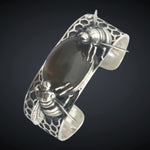 JEWELLERY BRACELETS
JEWELLERY BRACELETS
A collection of sterling silver bracelets and some leather bracelets with sterling silver end pieces.
We like to use dyed polished stingray leather, python or cow leather. Available in a variety of sizes and colors. Custom orders are also available on request.
GET YOUR MERCURIOUS ON !
NOT FOR EVERYONE, AND THAT'S JUST HOW WE LIKE IT !