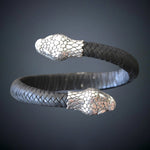 Bracelets
Our leather line is designed to be stunning, while also being comfortable to wear. Most of the cuffs and neck pieces are flexible and available in several sizes and different animal leathers. The most popular at the moment is Sting Ray leather, (also known as Shagreen) with its unique bubbly patterning.
It is so durable that it has been used as armour dating from ancient Egyptian times through to the Samurai period.
It was considered that those using the skin could take on the grace, dexterity, speed and impregnability of these rays.
They are available in a variety of colours, but we prefer to use black, brown grey and red.
GET YOUR MERCURIOUS ON !
NOT FOR EVERYONE, AND THAT'S JUST HOW WE LIKE IT !